No, I'm not looking for work. The four little charges I have already constitute full time status in my book. However, I did have an interview recently over at
5 Minutes for Mom
about my blog. You can check it out if you like by clicking on the link below: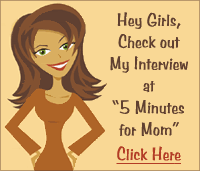 Don't go looking for anything deep. I basically just answered questions about why I blog and when I got started... those kinds of things.
I have to say that outside of real life friends and other multiples moms blogs I read, almost all the others are people that I've discovered through
5 Minutes for Mom
somehow. They host lots of blog carnivals and giveaways, and always have something good going on. If you enjoy blogging and haven't ever checked them out, you definitely should give them a look.